I'm french-canadian. Maybe some francophone readers have not noticed it because of my main use of the english language, but I am certain anglophones have caught on that I don't master Shakespeares language.
Quebec, the province I live in, is the only francophone province in Canada. We have our own television networks and radio stations that cater to our linguistic preferences and every year, a slew of movies from La Belle Province are applauded across the world.
If you speak french, you should check out these 19 Produits du Québec.
Grande Ourse
A rare gem in Quebec television. The only
hard sci-fi show
and ohmygod did it ever kick ass! Because there is so little funding for arts and entertainment in Canada, big shows like these only air for one maybe two seasons with only 6-8 episodes each. More of a mini-series, really. They eventually made a movie several years later but it lacked the depth of the series' storyline. Stars my favourite Quebec actress Fanny Malette as Gastonne.
Aveux
I blogged about this show before
here
.
Once again, this is more of a mini-series since it's only one season long. The casting is flawless, the acting is amazing, and some scenes will seriously leave you crying. So good!
Bon Cop, Bad Cop
Probably one of the most famous Quebec movie out there. It is bilingual and is a satire/dark comedy about the stupid fight between anglophones and francophones in Canada. It is kind of funny but you have to be in a particular kind of mood to laugh.
Elles Étaient Cinq
This is a really sad movie about the reality of criminal rights. Five girls host a party at one of the girls parent's cottage. Manon and Sophie decide to head to town to get more alcohol. When they return, a guy in a jeep stops when Sophie sticks her thumb out. What happens next changes the lives of all five girls and shines a light on how tolerent we are at parole hearings.
Babine
The very first Quebec fairytale. It leans more towards Grimm then Disney though. But all in all, it's still very much a family film and it contains everything and anything that makes this type of movie magical.
La Guerre des Tuques
Oh a classic! Every Quebecker has seen this movie in their lifetime. It's a staple during the christmas holidays and it still has its place in 2011. Kids will be kids!
Nos Étés
This one is still too fresh to be a classic but it will hold that title in the future. An epic tale of family ties, families at war, and all set in different time periods that marked our nation. Stunning series!

Les Chevaliers d'Émeraude
A very popular children's book series about knights defending their country against the humanoid insects that come from across the sea. It has been rumoured that it would be made into a television series but that has yet to happen. A spin-off book series set after the events of the twelfth and final book of
Chevalier d'Émeraudes
was released a couple of years ago but I lost interest.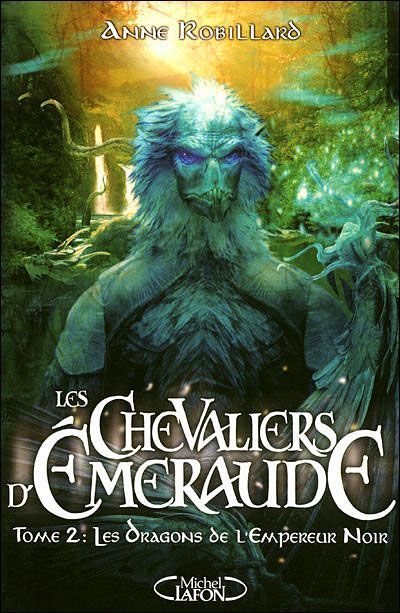 NRJ 104.1
The most popular french-speaking radio channel in Quebec. Many celebrities have hosted shows on this dial that has been refashioned from Energie to NRJ, the international chain of francophone music. Thanks to it we get french remixes of popular songs. Unfortunately we also get this:
Lance et Compte
This series has been around for 25 years, spawned 7 seasons, 6 TV movies and a big screen adaptation two years ago. It launched the career of Marina Orsini, who has become Quebec's sweetheart. It included real NHL hockeys teams into the drama and is the most sucessful francophone show in Quebec.

C.R.A.Z.Y.
This film travelled the world and won numerous prestigious awards such as the City Award at TiFF, the Jury's Prize at the Morocco Film Festival, the Genie award for Best Motion Picture, and won the Audience Award at the American Film Insitute Fest in Los Angeles. C.R.A.Z.Y. uses classic rock music - mostly Pink Floyd - as a backdrop to the movie. It tells the struggle of a homosexual boy growing up in the 70's with four macho brothers and a very strict conservative dad.
Les Boys
Oh another classic movie. It was a major sucessful movie that was followed by three sequels and an equally sucessful tv show which is in its fourth season. It got a lot of critisicsm for having similar plotlines and ideas as Lance et Compte and even have some of the same actors. The theme song for the movie has become Eric Lapointe's most requested song. Let's listen to it.


Roméo et Juliette
Almost every country - or nation with enough ressources to finance a film - has remade Shakespeare's tale of star-crossed lover. In the Quebec version, the story has been modernized and depicts a harsh-reality of our social classes and how we've grown to accept it as is. One of the better versions of Romeo & Juliet.
Le Collectionneur
This movie is based on Chrystine Brouillet's bestseller of the same name. I absolutely loved the book about a detective trying to solve a string of murders happening in Montreal. The movie came out almost at the same time as The Bone Collector with Denzel Washington and it had audiences confused as the french translation for the Washington flick was similar to Le Collectionneur. Suffice to say, it's now become a cult classic.

Aurore
This is a story most Quebeckers wished they hadn't heard. The true story of Aurore Gagnon - a severely tortured child who eventually died at the hands of her step-mother - has been told numerous times but none more painfully accurate then the 2005 adaptation by Luc Dionne, a remake of the 1952 film Little Aurore: Child Martyr.

Un Souper Presque Parfait
I guess you can compare this show with The Food Network's Dinner Party Wars, in which people compete for a grand prize by trying to out-perform their fellow competitors in the fields of hosting and cooking. In the Quebec version, it is five guests and and they are featured from monday to friday with each day reserved for one of the competitors. It is oddly entertaining!!

Karmina
A vampire movie with Quebec slang. Ya, totally fucking hilarious!

Wariwulf
From the author of the Amos Daragon series, Bryan Perro branched off several years ago to devellop a story set in ancient Egypt about a boy with the mystical powers to transform into a wolf. There is ALOT of characters in this one, in the same vein as Chevalier D'émeraude but the story is weaven so much more intricately.
Fanny Malette
I love this actress so much she deserves her own showcase slot! I first saw her in the supernatural series Grande-Ourse and have been feverishly stalking her every moves since. She stole my heart in Continental: Un film sans fusils, and her portrayal of the conflicted mother in Les 7 Jours du Talion can take anyone's breath away and reduce them to tears. Hands down, one of our bests. Her portrayal of Gastonne in Grande Ourse is an example of how much quirkiness is tolerated in television. She was cast against producers wishes in the series Nos Étés as Nora but soon convinced TV execs when her character became a fan favourite. I hated her, but I loved hating her.
If you are away from home, I hope you enjoyed this! What's your favourite thing Made in Québec?
Candles are out,
Eleven's Ink