Please note that I have only included those who seem to have wavered out of the spotlight. You will not see the likes of Christina Ricci, Elijah Wood, Kirsten Dunst, etc... as they have transitioned from the Child Star phase to full-blown "Actorrrrs".
Would you like ot join me down memory lane?
5. Mara Wilson
Most of you are probably scratching your heads, asking yourselves: Who is Mara Wilson? Does anybody remember the little girl in Mrs. Doubtfire? No?
Do you remember the child in Miracle on 34th street? Neither??
Hmmm....Oh I know! Mathilda? You must remember Mathilda!!
Mara Wilson was a very popular child actress in the 1990's and shot to fame as the wise-cracking, unafraid, and adventurous
Mathilda
; the ragtag child from Roald Dahl's famous children novel. After the success of these movies I have mentioned, she went on to star in A Simple Wish with Martin Short which I still vividly remember as being undeniably lame and boring. She followed that up with her last appearance in a movie with Thomas and The Magic Railroad. And no it's not about Harriet Tubman and some magic mushrooms!
Mara Wilson has decided to step away from the limelight while still pursuing dramatic arts at New York's Tisch School of Arts and expressed interest in doing smaller, more independent projects.
Mara - now 25
4. Tina Majorino
This child star was my favourite growing up. I enjoyed almost all of her movies and something about her was so real. Child stars nowadays could learn a thing or two from Tina. The first movie I saw with her was Corrina, Corrina equally starring Whoopie Goldberg, another favourite of mine and a staples of the 1990's. After that, came a string of high-profile roles such as that of Enola in the flop Waterworld and Toni in
Andre
, a family-oriented movie about a girl who befriends a seal.
In 1999, after starring in the titular role in Alice in Wonderland, Majorino decided to take a break from acting and focus on her personal life. She was contacted by Rob Thomas who has written a role specifically for her, that of Mac in Veronica Mars. That same year she landed her most notorious role: Deb in Napoleon Dynamite.
I was not a fan of the movie but oddly, I am anticipating the new animated version that Fox has picked up for their 2012 line-up. Here's a
sneak peak
.
Tina Majorino, now 26
3. Jonathan Lipnicki
Who doesn't remember the cute little kid from Jerry Maguire who practically stole the movie right out of Tom Cruise's hands. You could tell that his awkwardness would only land him roles for the next five years but he managed to solidify his box office success with the likes of Stuart Little, The Little Vampire, and Like Mike.
After the success of Jerry Maguire, Lipnicki landed the role of Jeff Foxworthy's son in the show that shared the name of it's major comedian. Although not a ratings-whore, the show managed to shed some light on the young actor who is unrecognizable nowadays.
I could have written more about him, but let's face it, the glasses was what really attracted us, not the talent.


Jonathan Lipnicki - now 20
2. Anna Chlumsky
So what inspired me, in part, to write today's entry was the movie My Girl, which was playing on television yesterday night on E!. I remember as a kid, the best part of the weekend was friday night's at the movie store, trying to find movies we HADN'T seen. It seems everything was simpler back then, movies for kids made sense for kids.
One actress that stood out amongst the others ( I have a knack for odd facial traits and Anna is full of them) is the cute little girl who portrayed Vada Sultenfuss in the hit movie My Girl and it's terrible sequel that was way too girlie for it's own good.
She went on to become a regular in children/teen movies with such classics as Gold Diggers: The Secret of Bear Mountain , Trading Mom, and A Child's Wish; a story about a child battling cancer that was shown to us in school and it stayed in my memory forever!!
And now with all this research i'm glad to say Anna is returning to TV with Julia Louis-Dreyfus in
Veep
, a north-american take on
The Thick Of It,
coming to HBO in 2012!! Hurray!!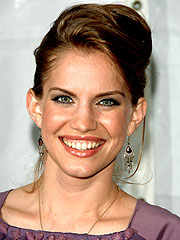 Anna Chlumsky, now 30
1. Macaulay Culkin
I think this one was pretty obvious since most people my age associate the 90's with Culkin movies. He acted in almost every movie that that geared towards kids and impressed the likes of us in classics such as The Pagemaster, Uncle Buck, Getting Even with Dad, and yes, even the horrible Richie Rich.
What is so interesting about Culkin, is that he made the news as much for his movies as for his perfonal life. His
family turmoils
have been all over the news and his strange relationship with the late king of pop, Michael Jackson, had been questioned in federal court.
After an impressive turn in instant hits like Home Alone, The Good Son, and My Girl, Culkin took a break from acting to tend to his personal life which was suffering dramatically.
He did an impressive return in Party Monster about a gay, drug-addicted party promoter who garnered some critical praise. He performed smaller roles in Saved! and Foster Hall and seemed to have made a comeback in the NBC series Kings in 2007 but the show failed to attract viewers and it was later cancelled, sending our dear friend Culkin back into darkness.
Macaulay Culkin, now 30
What are your favourite child stars that grew up along with you?
Candles are out,
Elevens Ink